For Participants
Congress Information
Registration
Registration Hours
| Date | Time | Venue |
| --- | --- | --- |
| Dec. 7th (Fri) | 15:00 – 17:30 | Hilton Okinawa Chatan Resort, Grand Ball Room |
| Dec. 7th (Fri) | 18:00 - 19:30 | CENTLEGENDA OKINAWA, Lobby |
| Dec. 8th (Sat) | 8:00 – 17:00 | Okinawa Convention Center, Conference Building A, Lobby |
How to Register
Participants who have pre-registered
Your reference number will be required at the Pre-registration Desk to comfirm your registration. You should have received the number in an email when you completed pre-registration. Please bring the printout of email or tell your reference number at the desk to receive a congress badge, program & abstracts book and a name badge holder.
*Please note that we can not confirm your registration without your reference number.
Participants who will register onsite
Onsite-registration is available at the Registration Area. Please visit the Onsite registration Desk and complete the required registration form that can be found at the Registration Area.
Payment Method
For both pre-registered participants and those registering onsite, the participation fee must be paid on the day of the congress.
All payments must be made in Japanese Yen (JPY) and only cash will be accepted. No other currencies are acceptable.
Currency Exchange Guide
We strongly recommend preparing Japanese Yen before arriving to Okinawa, Japan.
For your convenience, the Naha airport also has a currency exchange booth.
Please refer below for further details.
・Business Hours: 9:30-20:30 / ・Location: Naha Airport 1F / Telephone: +81 98 891 8880
| Category | Delegate | Resident | Accompanying Person |
| --- | --- | --- | --- |
| Pre-Registration | 15,000 JPY | 5,000 JPY | 3,000 JPY |
| Onsite-Registration | 18,000 JPY | 8,000 JPY | 5,000 JPY |
*1 Resident
[Eligibility]

Senior Resident Doctor, Graduated Student

[Benefit]

Participation fee is discounted.

Note: For registration on the day of the Congress, graduate and Ph.D. students must show their student ID and senior resident doctors must show their completed certificate at the registration desk. If the appropriate ID or certificate is not present at the registration desk, the participant will be charged the regular price.
*2 Accompanying Person
Accompanying person is limited to the spouse and family of registered Delegate or Resident doctor.
Delegate & Resident registration fees includes:
Admission to all sessions including Luncheon/Evening seminars
Admission to the exhibition & poster area
Participation in all programs of 10th Meeting of the Society for Anti-Aging Medicine in Urology. (Please note that the program events will all be conducted in Japanese.)
Documents including a book of abstracts
Refreshments (coffee breaks) and lunch
Admission to events (Welcome Gala Dinner on Dec. 7th and Presidential Dinner on Dec. 8th)
Accompanying Person Registration Fees Include:
Access is limited to events (Welcome Gala Dinner on Dec. 7th and Presidential Dinner on Dec. 8th)
Events
Participants are invited to attend events to meet and enjoy the company of fellow attendees. Both events below are open to all attendees.
Welcome Gala Dinner
Date & Time: December 7, 2018 (Friday) 6:30pm-
Venue: CENTLEGENDA OKINAWA
904-0115, OKINAWA, 49 MIHAMA, CHATAN-CHO NAKAGAMI-GUN, JAPAN From Naha International Airport: 35min. drive ) Style: Seated Dinner (buffet party)
Presidential Dinner
Date & Time: December 8, 2018 (Saturday) 6:30pm-
Venue: RINKEN'S KITCHEN
904-0115, OKINAWA, 8-11 MIHAMA, CHATAN-CHO NAKAGAMI-GUN From Naha International Airport: 40min. drive) Style: Seated Dinner (buffet party)
*The shuttle buses will transport between Okinawa Convention Center and the dinner venue after the congress.
General Information
Cloakroom
| Date | Time | Venue |
| --- | --- | --- |
| Dec. 7 (Fri) | All day | Hilton Okinawa Chatan Resort, 3F, Concierge Desk |
| Dec. 7 (Fri) | 18:00- 20:30 | CENTLEGENDA OKINAWA, Lobby |
| Dec. 8 (Sat) | 8:00-18:00 | Okinawa Convention Center, Lobby |
Exhibition and Refreshment Service
Okinawa Convention Center, Conference Room A2 and Lobby
Lunch Box
Complimentary lunch boxes will be served in the luncheon seminars.
Photography and Recording
Recording by any means (photographing, audiotaping, videotaping) of any presentation/session is prohibited, except by an authorized photographer or by First Authors who wish to photograph their own poster presentation.
Instructions for Chairpersons and Speakers
For Chairpersons
Please arrive 15 min. before the start of your session and take the designated chairpersons' standby seat.
Chairpersons are requested to remain within the time allotted for the session and each presentation.
For Speakers
All oral presentations should be digital (PC) presentations. Please note that slides and video tapes may not be used.
Audio playback is available.
The screen resolution is XGA (1024×768); aspect ratio 4:3.
There is no limit to the number of presentation slides, but please make sure your presentation finishes on time.
To prevent the possible spread of computer viruses, always scan your presentation files beforehand with updated anti-virus software.
If you created your presentation using Windows, please save it using a USB drive or bring your own computer.
If you are using a Macintosh, please bring your own computer.
Please submit your presentation and test it at the Speaker's Ready Room at least 30 min. before the start of your session. If using your own computer, please note that after testing your presentation, your computer will be stored at the PC operation desk located on the left side of the lecture hall.
Speaker's Ready Room Hours and Location.

| Date | Time | Location |
| --- | --- | --- |
| Dec. 7th (Fri) | 15:00 - 16:40 | PC Operation Desk, Grand Ball Room, Hilton Hotel Chatan Resort |
| Dec. 8th (Sat) | 8:00 - 16:30 | Speaker's Ready Room, Okinawa Convention Center, Conference Building A, Lobby |

Please see below on how to create your presentation data.
* For those bringing their presentation data (Windows only)

Please make your presentation on a Windows PowerPoint 2007, 2010, 2013, or 2016 and using the standard OS fonts:
Times New Roman, Arial, Arial Black, Arial Narrow, Century, Century Gothic, Courier, Courier New, Georgia
Animation and video can be used, however, please use a file that can be played back on Windows Media Player 12 with default codecs. We recommend using the file format WMV.
* If you have a video file, please bring your personal PC with you as a backup.
If you have any data (graphs or still images) in your presentation that uses links, please insert a "Picture" in place of the link as it can be the cause of some computer troubleshooting.
* Please make sure to double check your presentation on an alternate PC beforehand.
Please check your device for viruses using updated security software as there have been cases of virus infection through media.
Your data will be stored for your presentation and will be deleted by the secretariat after the congress.

* For those bringing their own PC


There are no limitations to OS, applications, hardware, however a Mini D-sub 15 pin cable will be used to connect the computer to the projector. Please note that certain computers (Macintosh, Surface) may require a proprietary connector (MiniDisplayPort). If that is the case, please bring your own connector.

| | |
| --- | --- |
| [D-sub15 pin] | [separate connectors] |
| | |

Please make sure your screensaver and virus software are turned off and that your computer is not in power saving mode. Please also unlock the password.
Please bring in your charger, as battery issues can be the source of technical troubles.
It is recommended to have backup data with you.
After the presentation, we will return your computer near the PC operation desk. Please come to the PC operation desk as soon as possible after your presentation as there is limited venue space.

Presentation Time
Podium: 5 min. presentation, 2 min. discussion
Other presentations, symposia, etc.: Presentation time differs depending on session. Please refer to the notice sent by the congress secretariat.
For Poster Presentation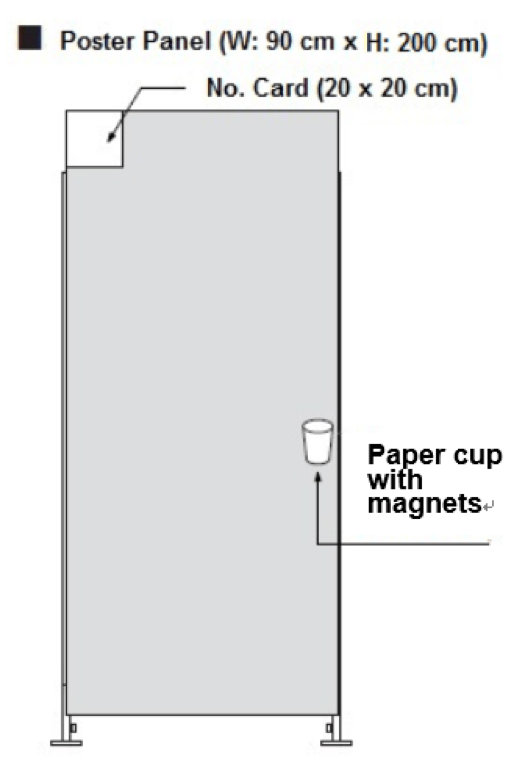 Each poster presenter will be provided with a 210cm x 90cm poster board. The total usable area excluding your poster title and information is 200cm (h) x 90 cm (w). Your poster must not exceed the usable area dimensions. Your poster number will be designated by our staff. Please prepare your presentation information (poster title, affiliation, author name) and presentation material by yourself.
Please refer to the schedule below to setup and removal for your poster on December 8th at Conference Room A2.
Set up / 8:30-9:30 Removal / 16:30-17:30
Poster viewing is 9:30-16:30.
Magnets will be on your poster board. Do not use foam core or any thick or multi-layered materials. Do not use adhesives (glue, tape, spray adhesives, Velcro, etc.) directly on the poster panels.
Make sure to observe the assigned timetable for registration, set up, viewing time and removal. Posters must be removed by end of the congress day. All posters left after the removal hours will be discarded by the congress staff.
Poster viewing will be held between 9:30 and 16:30. Please note there will be no scheduled time for poster presentations.