Access
Okinawa Convention Center
【Venue】 Okinawa Convention Center
【Address】4-3-1 Mashiki, Ginowan City, Okinawa 901-2224 JAPAN
【TEL】+81-98-898-3000 【FAX】+81-98-898-2202
50-70 minutes drive from Naha International Air Port (Bus Station No 3) to Okinawa Convention Center Bus Stop. If you use taxi, takes approximately 40 minutes. (14 kilometer) and costs average ¥3,500 form the Naha Airport.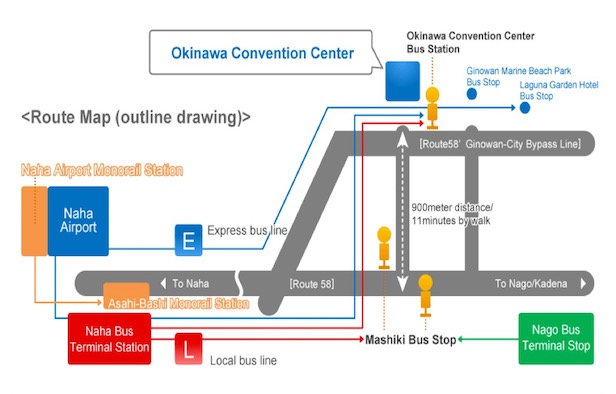 For more information, please see the convention center website
HILTON OKINAWA CHATAN RESORT
【Venue】 HILTON OKINAWA CHATAN RESORT
【Address】904-0115, OKINAWA, 40-1 MIHAMA, CHATAN-CHO NAKAGAMI-GUN, JAPAN
【TEL】+81-98-901-1111 【FAX】+81-98-901-1100
Hilton Okinawa Chatan Resort is located in Central Okinawa, Chatan, about a 40-minute drive (20 km) from the Naha International Airport by Taxi, Bus and Limousine Bus.
*Cost (Approximately): Bus 800 JPY / Taxi 1,000 JPY
*The shuttle buses will transport between Hilton Hotel and Okinawa Convention Center in the morning and after the congress.
Shuttle Bus Time Table
Shuttle Bus is available for this congress. Please check the time table below.
Date
Departure
Time
Arrival
Time
12/7
Naha Airport
13:00
Hilton Okinawa Chatan Resort
13:40
Naha Airport
14:00
Hilton Okinawa Chatan Resort
14:40
Naha Airport
15:00
Hilton Okinawa Chatan Resort
15:40
12/8
Hilton Okinawa Chatan Resort
7:30
Okinawa Convention Center
8:00
Hilton Okinawa Chatan Resort
8:00
Okinawa Convention Center
8:30
Okinawa Convention Center
17:30
RINKEN'S KITCHEN
18:00
Okinawa Convention Center
17:45
RINKEN'S KITCHEN
18:15
12/9
Hilton Okinawa Chatan Resort
9:15
Okinawa Convention Center
9:45
Okinawa Convention Center
9:55
Naha Airport
10:40
Okinawa Convention Center
16:45
Naha Airport
17:25
* The bus could be late depanding on the traffic condition.
Please come to the meeting point indicated below(★) in the each place.
Naha Airport International Terminal Lobby 1F

Naha Airport Domestic Terminal Lobby 1F

Hilton Okinawa Chatan Resort: Entrance for groups(1F)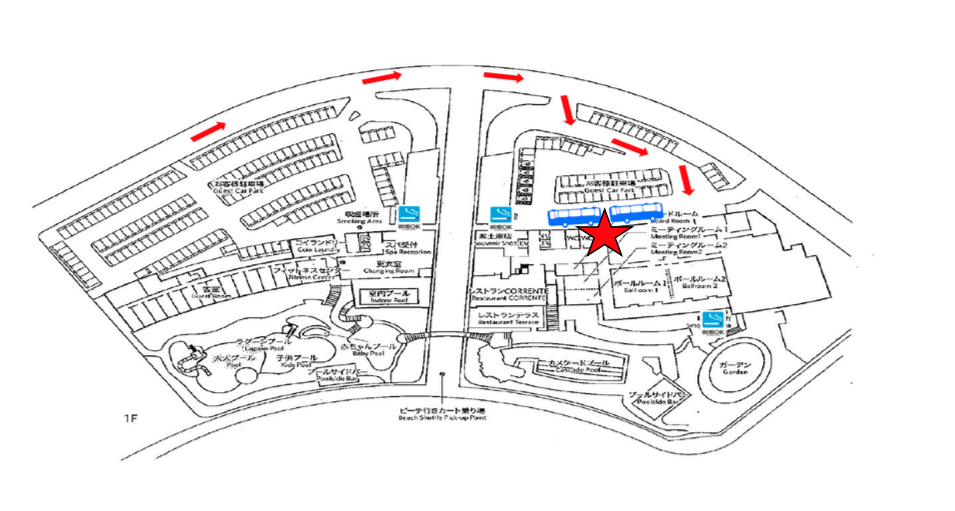 Okinawa Convention Center: Entrance of the conference building