Congress Information
DATES
May 25-27, 2018 (Fri-Sun)
VENUE
Osaka International Convention Center
5-3-51 Nakanoshima, Kita-ku, Osaka City 530-0005, Japan
LANGUAGE
Japanese
*Simultaneous translation into English and Japanese provided during certain sessions.
CHAIRMAN
Hidekazu Yamada, MD, PhD
Professor, Department of Dermatology, Nara Hospital Kindai University Faculty of Medicine; Deputy Director, Anti-Aging Center, Kindai University
CONGRESS SECRETARIAT
MediProduce, Inc.
2-26-35 8F, Minamiaoyama, Minato-ku, Tokyo 107-0062, Japan
Phone: +81-3-5775-2075 Fax: +81-3-5775-2076
Email: 18jaam@mediproduce.com
General Information
CLIMATE
The temperature in Osaka during the period of the conference ranges between 16 – 25℃.
LOCAL TIME
Japan Standard Time is GMT+9. The time difference for major cities is shown below.
Beijing: -1 hour
Los Angeles: -17 hours
London: +9 hours
New Delhi: -3.5 hours
New York: -14 hours
Seoul: 0 (same)
Singapore: -1 hour
Sydney: +1 hour
ELECTRICITY
| | |
| --- | --- |
| Electric current is uniformly 100 volts AC throughout Japan but with two different cycles: 50 in eastern Japan including Tokyo and Yokohama and 60 in western Japan including Kyoto, Osaka and Nara. Leading hotels in major cities have two outlets of 100 and 230 volts. However, the sockets usually only accept two-leg plugs. | |
PASSPORT AND VISAS
To visit Japan, you must have a valid passport. A visa is required for citizens of countries that do not have visa exemption agreements with Japan. Please contact the nearest Japanese embassy or consulate for visa requirements.
CURRENCY
Currency in Japan is the yen (JPY). Notes are available in denominations of 10,000, 5,000, 2,000 and 1,000 yen. Coins are minted in denominations of 500, 100, 50, 10, and 1 yen. Exchange at the airport is recommended for your convenience. Most foreign currencies and travelers' checks can be exchanged at authorized foreign exchange banks and hotels. However, we highly recommend purchasing travelers' checks or cash in yen before leaving your home country. A passport may be required for currency exchange services.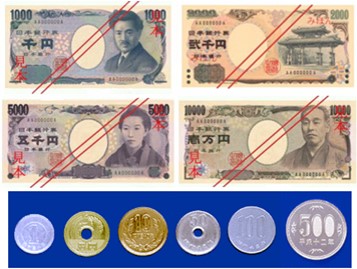 CREDIT CARDS
American Express, Diners Club, Visa and MasterCard are widely accepted at hotels, department stores, shops, and restaurants.
BANKS
Banks are open from Monday to Friday from 09:00 - 15:00, and you can exchange money at foreign exchange banks, but there are not many of them. Instead, you can withdraw JPY cash from ATM machines in convenience stores such as Seven-Eleven.
TIPPING
There is no custom of tipping in Japan. Instead, at high class restaurants, bars and hotels, a 10% service charge is usually added to the bill.
SHOPPING
Shops and malls in Japan are generally open on Saturdays, Sundays and national holidays as well as weekdays from 10:00 to 20:00. Department stores, however, are closed on one weekday differing by store, and certain specialty shops may not open on Sundays and national holidays.
PUBLIC TRANSPORTATION
For general transport, taxis are plentiful but also the most expensive. Public transportation is convenient, including JR and the Sapporo Municipal Subway.
ABOUT OSAKA
Osaka is located in the Kansai region and is the third largest city in Japan. It has a unique culture that differs significantly from Tokyo and is known in particular for its comedians. Osaka also has great food that represents the flavor of western Japan and is referred to as the "nation's kitchen".
OSAKA TOURIST INFORMATION
English
Japanese
Traditional Chinese
Simplified Chinese
Korean
Thai
HIGHLIGHTS
Dotonbori
Dotonbori could be called the center of downtown Osaka. There are many exciting things to do as well as great nightlife. The Glico runner featured in the photo is an icon of Osaka.
Osaka Castle
Osaka Castle is another symbol of Osaka and is located in central Osaka. Built in the 16th century, its green roofs make it memorable. Occasionally there are light ups of the castle at night.
Umeda Sky Building
The Umeda Sky Building stands because of its one-of-a-kind architecture. It has 40 stories and offers great views of Osaka, especially at night.
Osaka Aquarium Kaiyukan
The Kaiyukan is a famous aquarium in Osaka. It showcases 620 different species in 11,000 tons of water. The concept of the aquarium is the connection that all living beings share.
Abeno Harukasu
Abeno Harukasu is the tallest building in Japan. Newly built in 2014, it soars 300m in the sky and provides stunning views of Osaka.
NEARBY TOURISM OPPORTUNITIES
Kyoto
Kyoto is the traditional city in Japan and a must-visit for tourists. It is the home of countless temples and shrines, including the Golden Pavilion (featured in the photo). If you stroll the streets of Gion, you might even get a chance to meet a real geisha (maiko).
Nara
While not as famous as Kyoto, Nara also offers many traditional sights of Japan including Todaiji (see photo). Next to Todaiji is Nara Park, which hosts more than 1,200 deer that guests can feed.
Takeda Castle Ruins
The Takeda Castle Ruins are located in northern Hyogo prefecture (west of Osaka Prefecture). It is called the "Machu Picchu of Japan", and if you come in the morning, you may even get to see a castle float among the clouds.