General Information
IMPORTANT
Proof of identity such as a passport or ID is required in order to enter the conference venue. If you are unable to acquire proof of identity, please print out the
"Entrance Ticket"
from our website and bring it with you to the conference.
Registration
1. Registration Hours
| | | |
| --- | --- | --- |
| Date | Time | Venue |
| Dec. 2 (Wed) | 17:00-19:00 | Tokyo Dome Hotel, 42F, Pegasus |
| Dec. 3 (Thu) | 9:00-18:00 | Hitotsubashi Hall, 1F |
| Dec. 4 (Fri) | 9:00-16:30 | Hitotsubashi Hall, 1F |
2. How to Register
a)
Participants who have pre-registered
Please print out your registration confirmation by visiting the registration site. Log in using your registered ID and password and proceed to My Menu. From Confirm/Purchase/Edit/Cancel/Additional Application (green button), then click Confirmation Sheet (blue button) and print from your browser. At the conference, please bring the printed confirmation sheet to the Registration Area to receive a conference badge, an abstract book and a name badge holder.
b)
Participants who will register on-site
On-site registration is available at the Registration Area. Payment of the registration fee is by CASH ONLY. Please complete the registration form that can be found at the Registration Area.
| | |
| --- | --- |
| Category | Registration Fee |
| Registration Fee | ¥ 35,000 |
| Accompanying Person | ¥ 10,000 |
| Medical Students and Junior Residents | Waived |
The full registration fee includes:
1. Admission to all scientific programs
2. Admission to the exhibition
3. Documentation including a book of abstracts
4. Welcome reception
The registration fee for accompanying persons includes:
1. Admission to the exhibition
2. Welcome reception
c)
Waived Registration for Medical Students and Junior Residents
Registration to attend JTCOHNS 2015 is waived for Medical Students and Junior Residents upon submission of an application form. Avail of the waiver by submitting the application form at the Medical Students and Junior Residents Reception Desk on-site. Please note that we do not accept advance application of the registration waiver.
Please print out the form from our website and submit your application on-site. In addition, a separate fee is required to attend the Gala social event.
3. Conference Badges
Conference badges MUST be worn by registrants to gain admission to all sessions and programs.
Social Events
JTCOHNS 2015 participants are invited to attend social events to meet and enjoy the company of fellow attendees. The Welcome Reception is open to all attendees while reservation is required for the Gala Dinner.
1.
Welcome Reception
Date & Time: Dec. 2, 18:00-19:00
Venue: Tokyo Dome Hotel, 42F Pegasus
Style: Standing buffet party
2.
Gala Dinner
Date & Time: Dec. 3, 19:15-
Venue: Josuikaikan, 2F Star Hall
*The reception hall is located next to the conference venue.
Style: Seated Dinner
Gala Registration: Reservation required. All seats have been fully booked.

| | |
| --- | --- |
| * | Note: On-site reservation is not accepted. |

At the Gala Dinner, enjoy your meal while being entertained by the cultural performance of "kiyari," a customary song where performers sing while carrying large heavy logs, large stones, shrine bells, decorated floats, or even while splitting rocks. "Kiyari" is usually sung at festivals or by construction workers in the Kanto area during events.
Services for Participants
1. Photocopy, Fax, Internet and Wireless LAN
Photocopies: Hitotsubashi Hall, 2F
| | |
| --- | --- |
| * | Note: Photocopies only. Printing service is not available. |
Photocopies, FAX: Kinko's Jinbo-cho Branch (open 24 hours, 5-minute walk from venue)
Internet: Paid Wi-Fi is available in the conference center
| | |
| --- | --- |
| * | Note: Wi2 300, au Wi-Fi, DoCoMo Wi-Fi, Softbank Wi-Fi (SSID: mobile point) are available. |
2. Cloakroom
| | | |
| --- | --- | --- |
| Date | Time | Venue |
| Dec. 2 (Wed) | 17:00- | Tokyo Dome Hotel, 42F |
| Dec. 3 (Thu) | 9:00-19:00 | Hitotsubashi Hall, 1F |
| Dec. 4 (Fri) | 9:00-18:00 | Hitotsubashi Hall, 1F |
3. Travel Desk
Travel Desk supports your stay in Tokyo. The Desk will be located in the Registration Area. 4. Child Care
Child care service is available at Kid's Square which is located inside Tokyo Dome Hotel. Reservation is required to use the facility. Please contact Tokyo Dome Hotel directly to inquire about fees and business hours (Phone: 03-5805-2111). 5. Commercial Exhibition
Hitotsubashi Hall, 1F, Conference Room 101-103
| | |
| --- | --- |
| Date | Time |
| Dec. 3 (Thu) | 9:30-18:00 |
| Dec. 4 (Fri) | 9:30-17:00 |
* The poster exhibition is in the same hall. 6. Lunch Box
Complimentary lunch boxes will be served in the luncheon seminars. First come first served basis. 7. Photography and Recording
Recording by any means (photographing, audiotaping, videotaping) of any presentation/session is prohibited, except by an authorized photographer or by First Authors who wish to photograph their own poster presentation. 8. Shops and Restaurants
Many shops, restaurants, cafes, and convenience stores can be found near Jinbo-cho Station (5-minute walk from venue). 9. ATM
E-Net (ATM) is available at convenience stores (open 24 hours) near Hitotsubashi Hall. 10. Foreign Currency Exchange
Exchange service is available at Tokyo Dome Hotel. Trading currencies are Taiwan Dollar, US Dollar, Euro, British Pound, Australian Dollar, Chinese Yuan and Korean Won. 11. Car Park
Parking is not provided for the conference attendees. We encourage you to use public transportation. 12. Headquarters
Hitotsubashi Hall, 1F/Opening hours: 9:00-18:00
Instructions for Chairs and Speakers
For Chairs
Please arrive 20 minutes before the start of your session and take the designated chairs' standby seat.
Chairs are requested to remain within the time allotted for the session and each presentation.
For Speakers
Please visit the Speaker's Ready Room at 2F lobby no later than 30 min prior to your presentation in order to preview and submit your presentation.
For oral presentations, only Windows and Macintosh computers (single screen only) are supported.
Overhead and slide projectors are not available.
Supported OS and applications are as follows:

OS: Windows XP/Vista/7/8
Applications: PowerPoint 2003, 2007, 2010, 2013
Please bring your own laptop if your presentation was created using a Macintosh.

The duration of oral presentations are 7minutes, with a 3 minute Question and Answer portion.
File Management
Please create your presentation file using PowerPoint 2003, 2007, 2010, or 2013. If your presentation is made using a Macintosh, bring your own laptop.
To prevent display problems, use standard OS fonts such as Times New Roman, Arial, Arial Black, Arial narrow, Century, Century Gothic, Courier, Courier New or Georgia.
The screen resolution is XGA (1072 x 768 pixels). Sizes bigger or smaller than this may degrade the display quality.
The format for your presentation file title should be "your presentation code_your name.ppt". (ex: Symposium 01_John Smith.ppt)
There is no size limit for your presentation file. However, we recommend bringing your own laptop if your presentation file exceeds 800 MB.
If using audio or video in your presentation, we recommend bringing your own laptop. The recommended format for video files is WMV which can be played by both Windows Media player and QuickTime.
Keep all data files in one folder, including any linked reference files such as images.
After saving your presentation file on the appropriate medium, do test runs on another computer to make sure it works normally.
For Presenters Who Prefer to Use Their Own Laptop:
Make sure to bring your AC adaptor. A D-sub 15 pin (mini) cable is provided. Some laptops require a separate connector. Please bring your own connector if needed.
Tokyo and Eastern Japan have a voltage of 100V and 50 Hertz frequency. Japanese electrical plugs have two, non-polarized pins (Type A). Please bring your plug adapter if needed.
Switch off screen savers, power saving settings, and disable login passwords if any.
Make sure to bring a back-up of your presentation file using separate storage media.

Presentation Speaker's Ready Room:
Please submit your presentation file at the Speaker's Ready Room located at the 2nd floor.
Data Submission Schedule:

| | |
| --- | --- |
| Date | Time |
| Dec. 3 (Thu) | 9:00-17:30 |
| Dec. 4 (Fri) | 9:00-16:30 |

| | |
| --- | --- |
| *Note: | The Speaker's Ready Room is expected to be crowded on the morning of Dec. 3. In addition, we recommend speakers presenting on the morning of Dec. 4 to submit their presentation file on the afternoon of Dec. 3. |

Presentation files should be submitted via USB flash memory or CD-R.
If bringing your own laptop, connect it to the preview monitor and check that your presentation is displayed on the external monitor. Note that display settings may vary depending on device OS.
If submitting data via CD-R, use only hybrid format (ISO9660) to write to CD. Avoid using special features such as packet write to prevent potential reading problems.
To prevent the possible spread of computer viruses, always scan your presentation files beforehand with updated anti-virus software.
Any copies of your presentation file submitted to the secretariat will be deleted after the conference.
What to do after submitting your presentation file
Please be seated at the speaker's standby seat during the presentation before yours.
A mouse and keypad will be available on the podium table for your use during your presentation.
Guidelines for Poster Presentation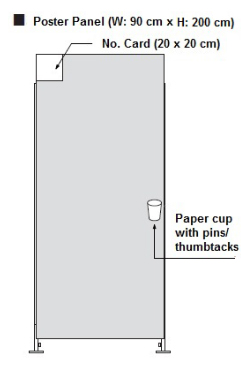 Each poster presenter will be provided with a 200 cm x 90cm poster board. The total usable area excluding your poster title and information is 180cm (h) x 90 cm (w). Your poster must not exceed the usable area dimensions. Your poster number will be designated by our staff. Please prepare your presentation information (poster title, affiliation, author name) and presentation material by yourself.
Please come to the Registration Desk (Lobby) to check in and receive your ribbon. The ribbon must be worn during the presentation/discussion hours.
Pins will be on your poster board. Do not use foam core or any thick or multi-layered materials. Do not use adhesives (glue, tape, spray adhesives, Velcro, etc.) directly on the poster panels.
Please be on standby in front of your poster during the presentation/discussion hours.

Note that odd numbered abstracts will start their presentation/discussion in the first half hour, while even numbered abstracts will start their presentation/discussion during the second half of the hour.

Make sure to observe the assigned timetable (as below) for registration, set up, presentation/discussion, and removal. Posters must be removed each day. All posters left after the removal hours will be discarded by the conference staff.
Dec. 3 (Thu)
Dec. 4 (Fri)
Sessions for the Day
Head and Neck 1/Otology 1
Laryngology 1/Rhinology 1
Other 1
Head and Neck 2/Otology 2
Laryngology 2/Rhinology 2
Other 2
Registration/Set-up
9:30-12:00
9:30-12:00
Public Viewing
12:00-16:05
12:00-16:15
Presentation/Discussion

*ODD NUMBER

16:05-16:35
16:15-16:45
Presentation/Discussion


*EVEN NUMBER

16:35-17:05
16:45-17:15
Removal
17:05-18:00
17:15-18:00