MediProduce, Inc.
---
About Us
MediProduce Creates All Types of Media Related to Medicine and Health
MediProduce, Inc. was founded in 2005 and specializes in providing avenues for delivering medical and health-related information to medical professionals and the public. At the heart of our operations are our staff, including a number of English speakers, who express their spirit of challenge and innovation to support events for a successful, meaningful, and memorable experience. Taking advantage of our close connection with the media, we often hold press conferences or seminars for medical associations and societies to convey the right information to the right person. We work closely with our clients from the planning phase in order to ensure a smooth and successful event. Acting as Congress Secretariat, we have helped organize numerous conferences both local and international ranging from 100-8,000 attendees.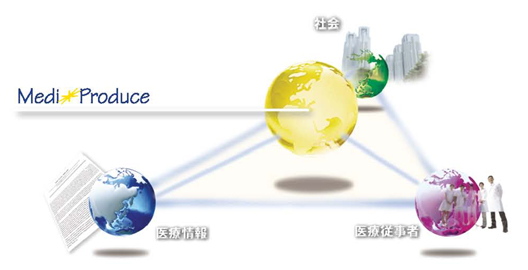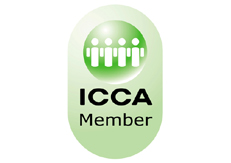 Mediproduce, Inc. is proud to be a member of the International
Congress and Convention Association (ICCA), the global expert
in international association meetings.
---
Company Profile
| | |
| --- | --- |
| Corporate Name | MediProduce, Inc. |
| Business Address | PORTAL POINT Ebisu #B5, Glass Square, Yebisu Garden Place 4-20-4 Ebisu, Shibuya-Ku, Tokyo 150-6090 JAPAN |
| Phone | +81-3-6456-4017 |
| Fax | +81-3-6456-4025 |
| Founded | August 2005 |
| Capital | 10,000,000 JPY |
| President | Eri Kubota |
---
Business Activities
At MediProduce we organize and promote medical conferences, seminars and other health-related events. We also work with the media to make medical information readily available to the public. In addition, we work in the production of TV programs about medical and health topics. Lastly, we publish books for the Japanese public filled with medical and health information.
---
Conferences Organized
MediProduce, Inc. has organized over 20 local and international conferences in addition to nearly 100 symposiums held annually.
2011
6th JAPAN-ASEAN Conference on Men's Health & Aging
Held at Kenchoji, Kamakura (100 attendees)
2012
The 116th Annual Meeting of Japanese Ophthalmology Society
Held at Tokyo International Forum (8,000 attendees)
2012
12th Scientific Meeting of the Japanese Society of Anti-Aging Medicine
Held at PACIFICO Yokohama (3,500 attendees)
2012
1st Conference on the Tear Film and Ocular Surface in Asia
Held at Kenchoji, Kamakura (150 attendees)
2013
13th Scientific Meeting of the Japanese Society of Anti-Aging Medicine
Held at PACIFICO Yokohama (4,000 attendees)
2015
Asia-ARVO 2015
Held at PACIFICO Yokohama (1,000 attendees)
2015
13th Japan-Taiwan Conference on Otolaryngology-Head and Neck Surgery
Held at Hitotsubashi Hall, National Center of Sciences (400 attendees)
2016
16th Scientific Meeting of the Japanese Society of Anti-Aging Medicine
Held at PACIFICO Yokohama (5,700 attendees)
2017
17th Scientific Meeting of the Japanese Society of Anti-Aging Medicine
Held at Tokyo International Forum (5,700 attendees)
2018
18th Scientific Meeting of the Japanese Society of Anti-Aging Medicine
Held at Osaka International Converence Center (6,000 attendees)
2018
The 119th Annual Meeting of the ORL Society Japan
Held at PACIFICO Yokohama (5,500 attendees)
2018
The 18th Annual Meeting of the Japanese Society for Men's Health
Held at Miraikan (400 attendees)
2018
The 35th Korea-Japan Urological Congress
Held at Okinawa Convention Center (300 attendees)
2019
GOIW2019
Global Ocular Inflammation Workshops (340 attendees)
2019
APSCI2019
12th Asia Pacific Symposium on Cochlear Implants and Related Sciences (1,300 attendees)
---
Detailed Congress Preparatory Activities
Effective Publicity
For past international conferences such as the 116th Annual Meeting of the Japanese Ophthalmological Society (JOS) and Asia-ARVO 2015, we placed several print advertisements in ophthalmic journals such as Ophthalmology, Investigative Ophthalmology & Visual Science, JAMA Ophthalmology, Ophthalmologica, Ophthalmic Research, and other prestigious journals around the world. Our online promotion activities include placing the event on society calendars, banner links on relevant websites, and society mailing lists. We also actively request the cooperation of international committee members and other event organizers by handing out brochures for distribution.
Our marketing activities resulted in more than 100 active attendees from Asia alone even though publicity of the annual meeting was non-existent until the 116th JOS and it was the first time the meeting was opened to international attendees. With professional support in public relations and marketing of very skillful staff, the 116th JOS hit the highest attendees' number in the 116-year history of the annual meeting. Asia-ARVO 2015 attracted over 1,000 participants from 35 countries.
An ad for ophthalmology journals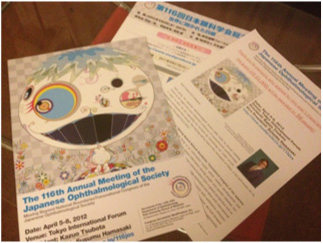 The brochures feature a design by Takashi Murakami, a world-renowned artist
Social Events
A scientific conference is a venue to communicate scientific information and build ties with other attendees. What better way to build contacts and make new friends than with a social event? We believe it is the congress secretariat's duty to provide the perfect social events that will both educate and entertain attendees. Past social events organized include Za-Zen, a morning meditation session at Kenchoji Temple in Kamakura that left the attendees refreshed to begin their day. The festival-themed Gala Night and Japanese Presidential Dinner events at Asia-ARVO 2015 were highly praised by attendees who experienced the warmth of traditional Japanese culture first-hand through food, games and cultural performances such as Japanese calligraphy and traditional Japanese music.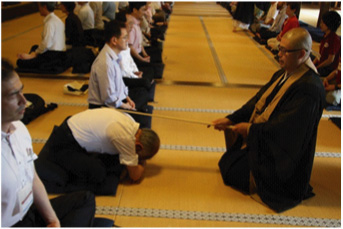 Morning meditation Za-Zen session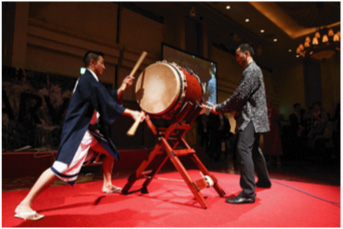 Traditional Japanese drum performance
---
Privacy Policy
We, MediProduce, is a company incorporated in Tokyo, Japan. Our business domain is broad, from organizing events to providing consultation to health or medical-related companies.
When we organize events, we usually deal with private information. It is our policy to place high value on the protection and preservation of privacy. This policy applies to the entire organization, including all processes, parts, objects and data collections.
The policy will be reevaluated every year and revised as necessary. Changes to this policy will be announced via this website.
1. PRINCIPLES
We will treat personal data in a safe manner and respect the privacy of those involved.
We ensure that personal data are collected and processed only for specific, explicit and legitimate purposes and not further processed in a manner that is incompatible with those purposes.
1.1 Data we collect
We collect information from you when you register on our site, fill out a form, and/or respond to our email.
When registering or responding to our email, you may be asked to enter and or all of the following data: name, age, nationality, e-mail address, title, affiliation/company name, postal mailing address, phone number. We may ask credit card information for billing purposes. We may ask for your passport information and travel itinerary only when deemed necessary for the purpose of visa and taxation application.
1.2 Data minimization
We process only data that is relevant and limited to what is necessary in relation to the purposes for which they are processed.
1.3 Data usage
Any of information we collect from you may be used in the following ways or as necessity requires. (GDPR6 1[b])
To contact you for detailed information for the events, the organizations holding the events or to accommodate your request. (GDPR6 1[b])
To list your name as attendee, speaker, chair of the events, the company representatives, the related persons or the board of the organizations. (GDPR6 1[b])
To arrange your payment for the events and any service you may have requested. (GDPR6 1[b)])
To share with the organizers of the events, the board of directors of the organizations who are obliged to have your data as "controller". A separate GDPR agreement shall be made with the controller. (GDPR6 1[b])
To manage your personal identification during the period of the event. (GDPR6 1[b])
1.4 Storage period
Personal data will be kept no longer than is necessary. Keeping of personal data would be necessary for us to perform its core duties within 1 year at most after the event in order to finish and finalize the budget and report to the controller.
1.5 Integrity and confidentiality
Personal data are processed in a manner that ensures appropriate security of the personal data, including protection against unauthorized or unlawful processing and against accidental loss, destruction or damage, using appropriate technical or organizational measures.
1.6 Sharing with third parties
When we are contracted as the secretariat for outside organizations, companies and events, those parties will be the "Controller" of the data, and the data we collect will automatically belong to the "Controller". A separate contact information form of the "Controller" will be made publicly available.
Whenever we cooperate with external parties that involves the processing of personal data, we will make an agreement that clearly states the requirements that must be met for the transfer of this data. These agreements comply with privacy legislation.
1.7 Data protection
We implement a variety of security measures to maintain the safety of your personal information when you register, enter, submit, or access your personal information.
2. WEBSITE USAGE & COOKIES
Please review our cookie policy.
3. TRANSFER TO RECIPIENTS IN THIRD COUNTRIES
In order to provide our services, we sometimes may need to transfer your personal data to countries outside of the EU, the country where the "Controller" is located, which are not recognized by the European Commission as providing an adequate level of data protection. We transfer your personal data to these countries with your explicit consent(GDPR§49Ⅰ[a]).
For further information, including obtaining a copy of the documents used to protect your information, please contact us by sending an e-mail to〔pco@mediproduce.com〕.
4. YOUR RIGHTS
You have the right to request a copy of your personal data in order to correct, delete or restrict (stop any active) processing of your personal data, and to obtain the personal data you provided to us for a contract or with your consent in a structured, machine readable format (i.e. the right of data portability).
These rights may be limited, such as if the fulfilment of your request would reveal personal data about another person, where it would infringe upon the rights of a third party (including our rights) or if you ask us to delete information which we are required by law to keep or have compelling legitimate interests in keeping. Relevant exemptions are included in both the GDPR and local EU laws on privacy.
5. WITHDRAWING CONSENT
Wherever we rely on your consent, you have the right to withdraw that consent at any time. Such withdrawal does not affect the lawfulness of any processing performed pursuant to the consent given prior to the withdrawal.
6. PERSONAL DATA THAT IS MANDATORY
Personal data that is mandatory is indicated in the relevant forms that you complete. Where provision of personal data is mandatory, we are not able to provide our services to you if the relevant information is not provided.
7. YOUR RIGHT TO COMPLAIN TO A SUPERVISORY AUTHORITY
You have the right to lodge a complaint with a supervisory authority, in particular in the EU Member State of your habitual residence or place of work, or in the place where the alleged infringement of the GDPR took place.
8. CAN-SPAM
Extracting or harvesting email addresses for the purpose of unsolicited email marketing from any page from mediproduce.com or any subdomain of mediproduce.com is forbidden.
9. CONTACT US
If you have any questions about this privacy policy, please contact us.
10. CHANGES TO PRIVACY POLICY
We reserve the right to add to or amend this privacy policy at our sole discretion, without prior notice to you. Please review our privacy policy on a regular basis to make sure you have read the latest version and you understand what we do with your personal information. Your continued use of our services or our websites following the posting of changes to these terms means that you consent to those changes.
This version of the privacy policy is effective as of Jan 10, 2019
---
Cookies Policy
We may use a technology called "cookies" to provide you with, for example, customized information from our website and its webpages (the "Site"). By browsing this website, you consent to the use of cookies by us as described in this Cookies Policy.

A cookie is an element of data that a website can send to your browser, which may then store it on your system. Cookies allow us to understand who has seen which pages and advertisements, to determine how frequently particular pages are visited and to determine the most popular areas of our Site. Non personal information such as browser type, operating system and domain names may be collected during visitors' use of the Site and this information may be used by us to measure the number of visitors to the Site.

・What types of cookies do we use?
We may use Analytical cookies on the Site:

Analytical cookies – Our website uses third party cookies, such as Google Analytics cookies (third party cookies) for the following purposes:

• a cookie to record the time of your first visit to website, the time of your most recent visit to the website and the time of your current visit;
• a cookie to record which page(s) you visit on the website;
• a cookie to record how long you stayed on the website; and
• a cookie to record how you located our website (i.e. Google search, keyword, link from other page etc.).

We only share the information obtained through the use of Google Analytics with Google. For more information on Google's use of your information, please see Types of Cookies Used by Google. The cookies we use for these purposes do not track your Internet usage after leaving our website and do not store your personal information. They will not be used in connection with any other information to identify you in any way.

・Disabling cookies
If you wish, you can usually adjust your browser so that your computer does not accept cookies. How you adjust your browser to stop it accepting cookies or to notify you of them, will depend on the type of internet browser program your computer uses.

・Your consent to cookies
By browsing this website you consent to the use of cookies by us as described above. Please read more about cookies,but please remember that we are not responsible for external websites
Cookies do not contain confidential information such as your home address, telephone number or credit card details. We do not exchange cookies with any third party websites or external data suppliers. If you do choose to disable cookies, you may find that certain sections of our Site do not work properly.