MediProduce, Inc.
MediProduce Creates All Types of Media Related to Medicine and Health
MediProduce, Inc. was founded in 2005 and specializes in providing avenues for delivering medical and health-related information to medical professionals and the public. At the heart of our operations are our staff, including a number of English speakers, who express their spirit of challenge and innovation to support events for a successful, meaningful, and memorable experience. Taking advantage of our close connection with the media, we often hold press conferences or seminars for medical associations and societies to convey the right information to the right person. We work closely with our clients from the planning phase in order to ensure a smooth and successful event. Acting as Congress Secretariat, we have helped organize numerous conferences both local and international ranging from 100-8,000 attendees.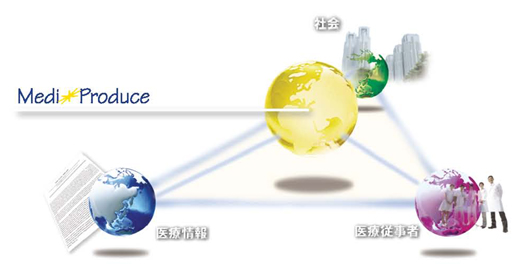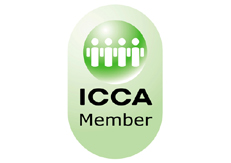 Mediproduce, Inc. is proud to be a member of the International
Congress and Convention Association (ICCA), the global expert
in international association meetings.
---
Conferences Organized
MediProduce, Inc. has organized over 20 local and international conferences in addition to nearly 100 symposiums held annually.
2011
6th JAPAN-ASEAN Conference on Men's Health & Aging
Held at Kenchoji, Kamakura (100 attendees)
2012
The 116th Annual Meeting of Japanese Ophthalmology Society
Held at Tokyo International Forum (8,000 attendees)
2012
12th Scientific Meeting of the Japanese Society of Anti-Aging Medicine
Held at PACIFICO Yokohama (3,500 attendees)
2012
1st Conference on the Tear Film and Ocular Surface in Asia
Held at Kenchoji, Kamakura (150 attendees)
2013
13th Scientific Meeting of the Japanese Society of Anti-Aging Medicine
Held at PACIFICO Yokohama (4,000 attendees)
2015
Asia-ARVO 2015
Held at PACIFICO Yokohama (1,000 attendees)
2015
13th Japan-Taiwan Conference on Otolaryngology-Head and Neck Surgery
Held at Hitotsubashi Hall, National Center of Sciences (400 attendees)
2016
16th Scientific Meeting of the Japanese Society of Anti-Aging Medicine
Held at PACIFICO Yokohama (5,700 attendees)
---
Detailed Congress Preparatory Activities
Effective Publicity
For past international conferences such as the 116th Annual Meeting of the Japanese Ophthalmological Society (JOS) and Asia-ARVO 2015, we placed several print advertisements in ophthalmic journals such as Ophthalmology, Investigative Ophthalmology & Visual Science, JAMA Ophthalmology, Ophthalmologica, Ophthalmic Research, and other prestigious journals around the world. Our online promotion activities include placing the event on society calendars, banner links on relevant websites, and society mailing lists. We also actively request the cooperation of international committee members and other event organizers by handing out brochures for distribution.
Our marketing activities resulted in more than 100 active attendees from Asia alone even though publicity of the annual meeting was non-existent until the 116th JOS and it was the first time the meeting was opened to international attendees. With professional support in public relations and marketing of very skillful staff, the 116th JOS hit the highest attendees' number in the 116-year history of the annual meeting. Asia-ARVO 2015 attracted over 1,000 participants from 35 countries.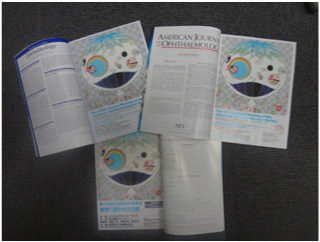 An ad for ophthalmology journals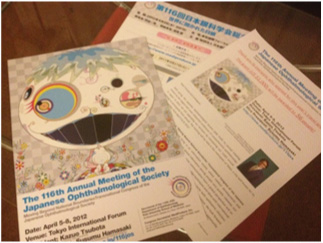 The brochures feature a design by Takashi Murakami, a world-renowned artist
Social Events
A scientific conference is a venue to communicate scientific information and build ties with other attendees. What better way to build contacts and make new friends than with a social event? We believe it is the congress secretariat's duty to provide the perfect social events that will both educate and entertain attendees. Past social events organized include Za-Zen, a morning meditation session at Kenchoji Temple in Kamakura that left the attendees refreshed to begin their day. The festival-themed Gala Night and Japanese Presidential Dinner events at Asia-ARVO 2015 were highly praised by attendees who experienced the warmth of traditional Japanese culture first-hand through food, games and cultural performances such as Japanese calligraphy and traditional Japanese music.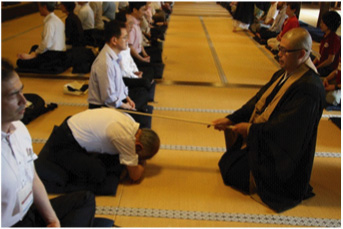 Morning meditation Za-Zen session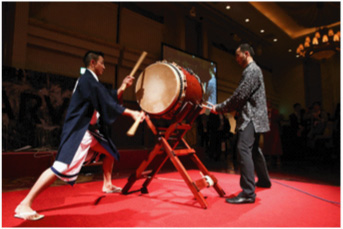 Traditional Japanese drum performance
---
Company Profile
| | |
| --- | --- |
| Corporate Name | MediProduce, Inc. |
| Business Address | 2-26-35 8F, Minamiaoyama, Minato-ku, Tokyo 107-0062, Japan |
| Phone | +81-3-5775-2075 |
| Fax | +81-3-5775-2076 |
| Founded | August 2005 |
| Capital | 10,000,000 JPY |
| President | Eri Kubota |
---
Business Activities
At MediProduce we organize and promote medical conferences, seminars and other health-related events. We also work with the media to make medical information readily available to the public. In addition, we work in the production of TV programs about medical and health topics. Lastly, we publish books for the Japanese public filled with medical and health information.