Climate
The temperature in Tokyo during the period of the Congress ranges between 7 - 16 degrees Celsius.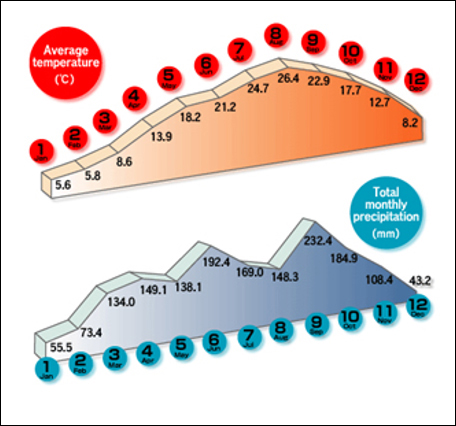 Local Time
Japan Standard Time is GMT+9. The time difference for major cities is shown below (decreased by 1 hour during Daylight Saving Time):

Beijing: -1 hour
Los Angeles: -17 hours
London: +9 hours
New Delhi: -3.5 hours
New York: -14 hours
Seoul: 0 (same)
Singapore: -1 hour
Sydney: +1 hour
Electricity
Electric current is uniformly 100 volts AC throughout Japan, but with two different cycles: 50 in eastern Japan including Tokyo and Yokohama, and 60 in western Japan including Kyoto, Osaka and Nara. Leading hotels in major cities have two outlets of 100 and 230 volts, but the sockets usually only accept two-leg plugs.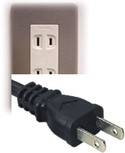 Passport and Visa
To visit Japan, you must have a valid passport. A visa is required for citizens of countries that do not have visa exemption agreements with Japan. Please contact the nearest Japanese embassy or consulate for visa requirements.
Insurance
The Organizing Committee can accept no responsibility for accidents or damage to private property of participants. Please make your own arrangements for health insurance and any other necessary insurance.
Currency
CoinMill.com - The Currency Converter
Currency in Japan is the yen (JPY). Notes are available in denominations of 10,000, 5,000, 2,000 and 1,000 yen. Coins are minted in denominations of 500, 100, 50, 10, and 1 yen. Exchange at the airport is recommended for your convenience. Most foreign currencies and travelers' checks can be exchanged at authorized foreign exchange banks and hotels. However, we highly recommend purchasing travelers' checks or cash in yen before leaving your home country. A passport may be required for currency exchange services.

Japanese notes are: 10,000 / 5,000 / 2,000 / 1,000
Coins are: 500 / 100 / 50 / 10 / 5 / 1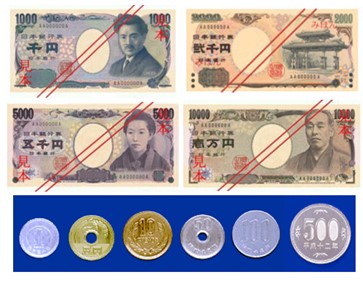 Credit Card
American Express, Diners Club, Visa and MasterCard are widely accepted at hotels, department stores, shops and restaurants.
Banks
Banks are open from Monday to Friday from 09:00 - 15:00, and you can exchange money at foreign exchange banks, but there are not many of them. Instead, you can withdraw JPY cash from ATM machines in convenience stores such as Seven-Eleven.
Tipping
There is no custom of tipping in Japan. Instead, at places such as high class restaurants, bars and hotels, a 10% service charge is usually added to your bill.
Shopping
Shops and other sales outlets in Japan are generally open on Saturdays, Sundays and national holidays as well as weekdays from 10:00 to 20:00. Department stores, however, are closed on one weekday, differing by store, and certain specialty shops may not open on Sundays and national holidays.
Cell Phones
Cell phone rental is recommended, as most foreign phones are not compatible with Japan's network. Cell phone rental shops are conveniently located at Narita and other international airports. Please check with your network provider prior to your departure.
Public Transportation
For general transport, taxis are convenient, but can be costly. but cost most. JR railroad has easy access to and from Shinjuku station.
About Tokyo
Tokyo is the Capital and also the largest city in Japan. Tokyo consists of 23 different "neighborhoods" and tourists can enjoy the different characteristics of each one: from the young shoppers' paradise of Harajuku, to the technological hub of Akihabara, to the luxurious Ginza, Tokyo offers limitless opportunities. Tokyo's traditional hospitality combined with modern facilities makes it a popular site for international conventions. Its tourist locations in Japan makes it a perfect jump-off point.
Tokyo Visitors' Guide
English
Japanese
Traditional Chinese
Simplified Chinese
Korean
Thai
Tokyo Highlights
Tokyo Skytree
The Tokyo Skytree was recently opened in 2010 making it the tallest building in Japan standing 634m high (antenna spire). The Skytree lights up purple and blue rotating each day, and it has incredible views of the metropolitan city. There are also many shops and restaurants for you to check out.
Imperial Palace
No visit to Tokyo is complete without stopping by the Imperial Palace - the primary residence of the current Emperor of Japan. It is filled with several beautiful gardens. Why not take a stroll around the Imperial Palace and imagine about historical Tokyo?
Ghibli Museum
The Ghibli Musuem hosts great artifacts from the anime works of Studio Ghibli. This museum is a must visit for all Hayao Miyazaki fans.
Asakusa
Asakusa is home to one of Tokyo's most famous temples, known as Sensoji. The stark red color is iconic and complemented by its neighboring pagoda: a great combination for taking incredible pictures. There are also many local souvenir shops located near the temple.
Nearby Tourism Opportunities
Yokohama (30 min. away)
Only 30 minutes away from Tokyo is the must-visit city, Yokohama. Enjoy this exciting, historical port city - stroll around the Sankeien Garden and enjoy lunch at China Town. You can also ride the huge ferris wheel that lights up Yokohama's night sky or take a cruise down Tokyo Bay.
Kamakura (under 60 min.)
A half-hour train journey will take you to the ancient Japanese capital of Kamakura. It is home to thousand-year-old temples and The Great Buddha, a bronze statue 11.4 meters (37.4 ft.) in height depicting Buddha in a seated meditative pose.
Mt. Fuji and Hakone (90-120 min. away)
Just an hour and a half away lies one of the most famous tourist resorts in Japan. Surrounded by scenic mountains, Hakone offers the unique scenery of placid Lake Ashi (Ashi-no-ko) at the foot of Mt. Fuji. It also boasts an abundance of hot-springs scattered along its streams and rivers, as well as many museums and amusement facilities.